Total dental reconstruction with implants
Total dental reconstruction with implants is suitable for patients who have lost a significant number of teeth in the mandible or jawbone, or all their teeth.
A common but mostly unsatisfactory way of treating toothless mandibles or jawbones is to make an ordinary total removable substitute, commonly called tippers or totals. This kind of solution often brings many problems, such as instability of the substitute during speaking and chewing, loss of taste and, last but not least, psychological frustration from the removable substitute and toothless mouth.
When 4 to 6 implants are introduced, not only the entire dental arch can be replaced, but also the missing gum protrusion and, at the same time, a very good aesthetic result can be achieved.
Straumann® BLX: strong teeth on 4 implants within 48 hours
Within 48 hours after implantation, we will hand over a temporary (resin) bridge to you, which we will exchange in 3 months for an all-ceramic bridge fixed on 4 implants in the range of 10 to 12 teeth.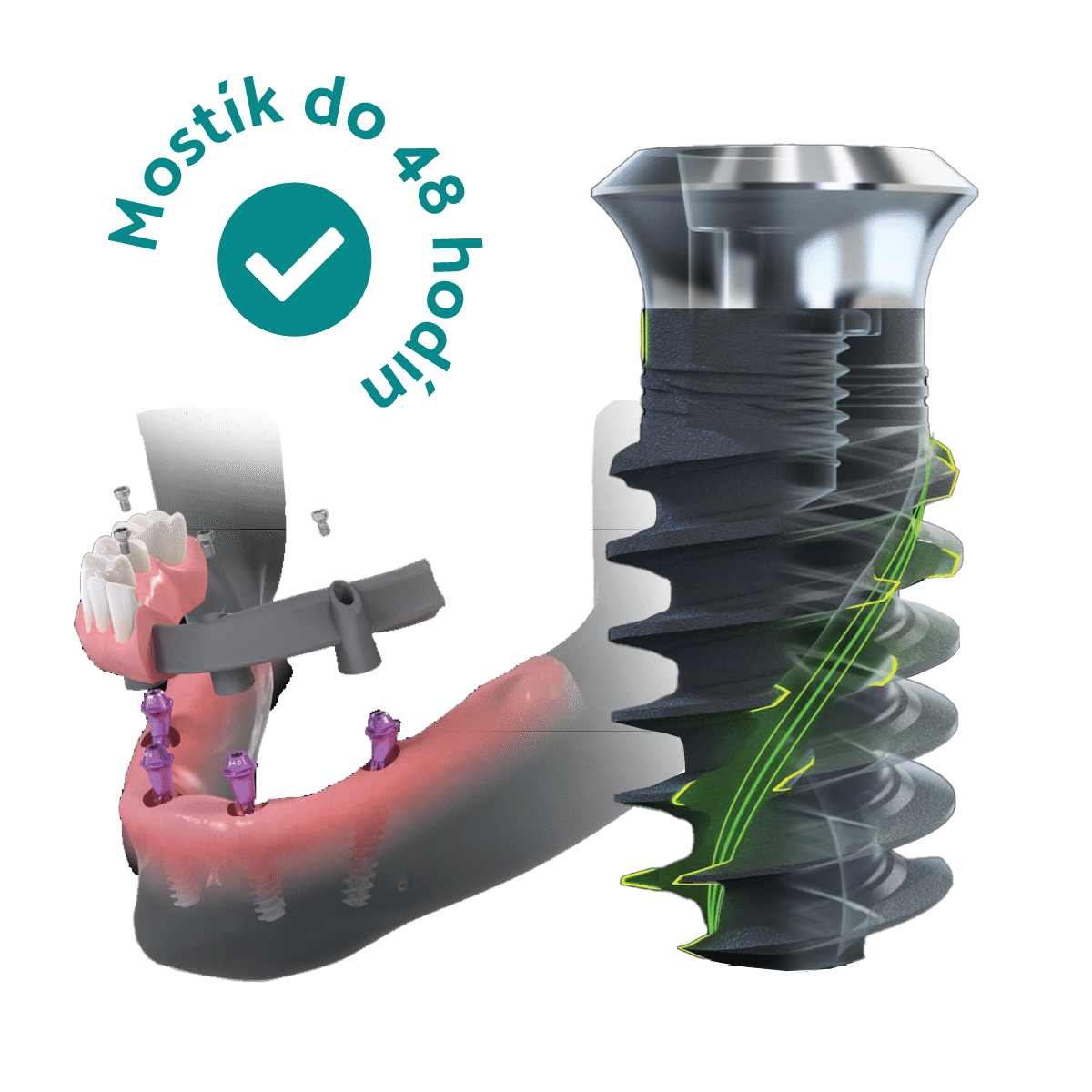 What happens in the course of treatment and what is the price?
Phase one: Extraction of residual teeth
In this initial stage, we pull out all the remaining teeth (wobbling, broken, unsatisfactory…) or roots and allow the bone to heal (usually 2-3 months). During this healing, a removable prosthesis is made for the patient. This is followed by healing lasting 2 to 3 months.
Price calculation:
The price of extractions ranges from €60 to 80 multiplied by the number of teeth that need to be pulled. The price of the prosthesis is €650 + modification of the prosthesis after extraction wounds have healed in the next 2-3 weeks (€100).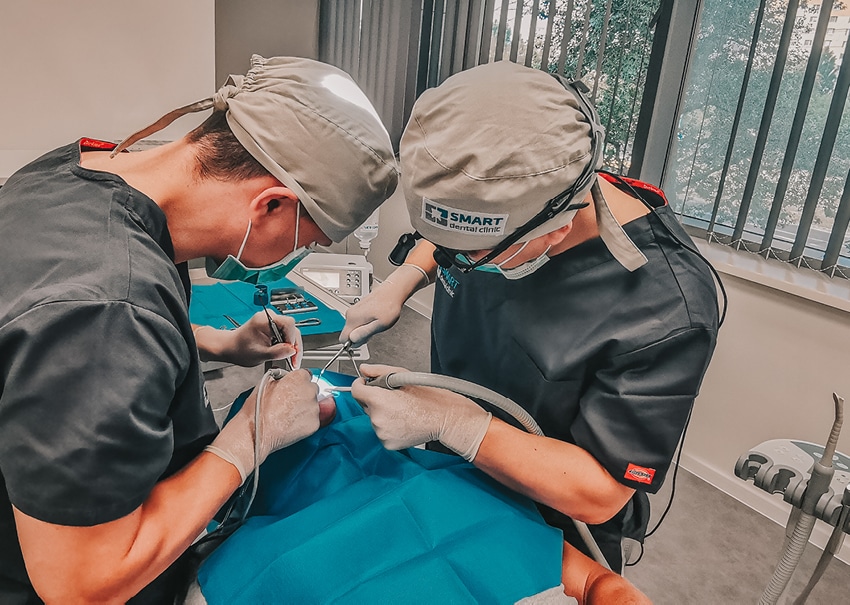 Phase two: Implants insertion
An CT X-ray of the bone into which the implant is to be inserted is done prior to procedure.
We usually insert 6 implants in the mandible and 4 implants in the jaw.
In the case of significant bone deficiency, the bone should be supplemented (augmentation with a replacement bone material), several months in advance. However, bone is often replenished during implant insertion. The procedure is done painlessly under local anesthesia.
This is followed by healing lasting 2 to 3 months (depending on the type of implant). The healing period is the time for the so-called osseointegration, when the implant surface is inhabited by the patient's own bone cells and thus the implant literally merges with the bone.
Implants used in our clinic (please, select one):
Straumann SLActive: € 820 or Straumann SLA: € 720 or Neo Biotech: € 550 + healing cup : € 60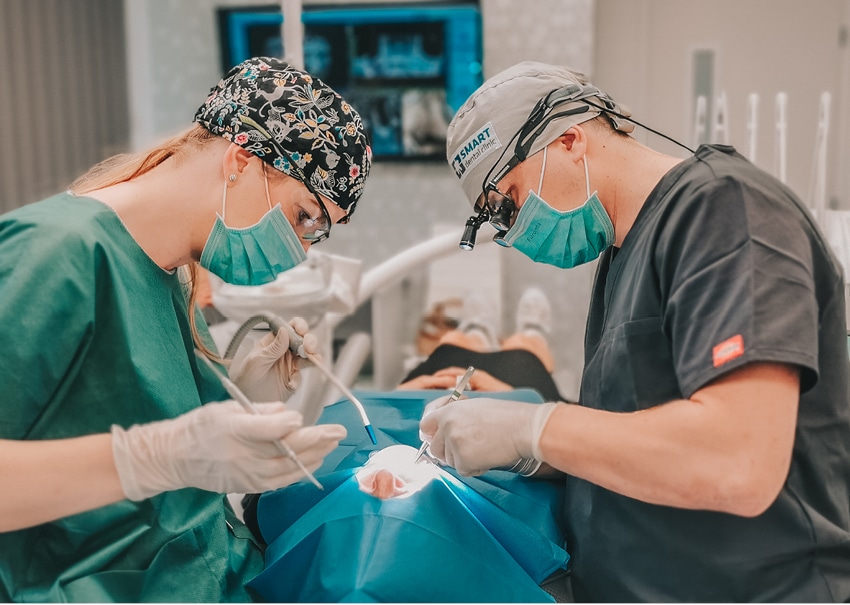 Stage three: Bridge construction
After successful osseointegration, an impression of the implants' position is made. There are several trials (3-4 appointments) and the work is usually done within 2-3 weeks.
Watch the video below:
Alternative 1: all-ceramic bridge with titanium structure
The bridge consists of superstructures and crowns (intermediate pieces). It is screwed directly onto the implants (if necessary, it is possible to remove the prosthetics at any time and possibly adjust it).
Price calculation:
Bridge: number of superstructures multiplied by €220 + number of crowns multiplied by €380
Alternative 2: composite resin bridge (core - metal) on implants - Branemark bridge
The bridge is made of a standard resin as a "prosthesis" but the teeth are composite and the body is metallic. Its great advantage is that it is easy to repair and overall, the bridge is lightweight.
The bridge is screw-fastened directly onto the implants (if necessary, it is possible to remove the prosthetics at any time and possibly adjust it).
Price calculation:
Lightweight bridge: €3500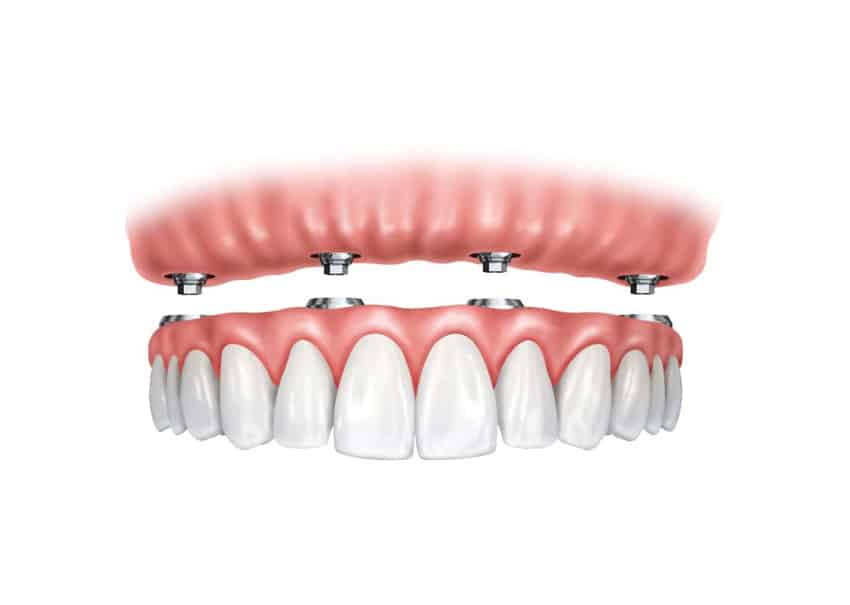 Mock price list of a complete reconstruction
Condition: toothless upper jaw
Solution: reconstruction of dentition with a lightweight bridge anchored on six Straumann SLA implants. Note: a temporary removable substitute is made for duration of healing.
First phase: 6x €720 + 6x €60 + €650 = €5330
Healing: 2 to 3 months
Second phase: resin composite bridge = €3500
Total price: €8830
In the case of choosing a more affordable Neo Biotech implants (€550) the total price is €7810.
Reviews from our patients
Dental reconstruction with implants at Smart Dental Clinic
TAKE ADVANTAGE OF A FREE NON-BINDING CONSULTATION WITH A SPECIALIST! FILL OUT THE FORM AND WE WILL GET BACK TO YOU.