Teeth whitening is an aesthetic correction of the teeth color, which is carried out under professional supervision in dental practices. Various whitening products are available on the market today, e.g., whitening pastes, which can also be purchased for use at home. Despite what the advertisements say, these over-the-counter products cannot achieve permanent teeth whitening.
Teeth can only be whitened permanently using hydrogen peroxide or carbamide peroxide. Their use may not be harmful to dental enamel subject to exclusion of all contraindications when choosing the whitening procedure and that the whitening is carried out gently with appropriate concentrations under an expert supervision.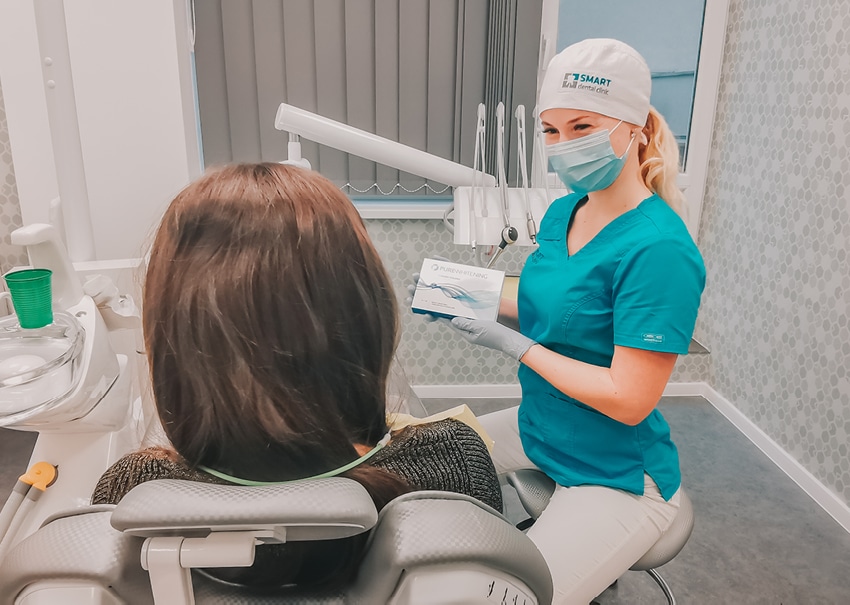 Introduction by our dental hygienist Zuzana
Whitening under expert supervision is divided into:
This is a type of whitening in which the patient is given carriers made from their teeth impressions, which the patient fills with a special whitening gel containing hydrogen peroxide or carbamide peroxide in low concentration and applies to their teeth over several days. These carriers are applied either during the night or for a certain time during the day. Whitening at home is more time consuming, but its effect is longer.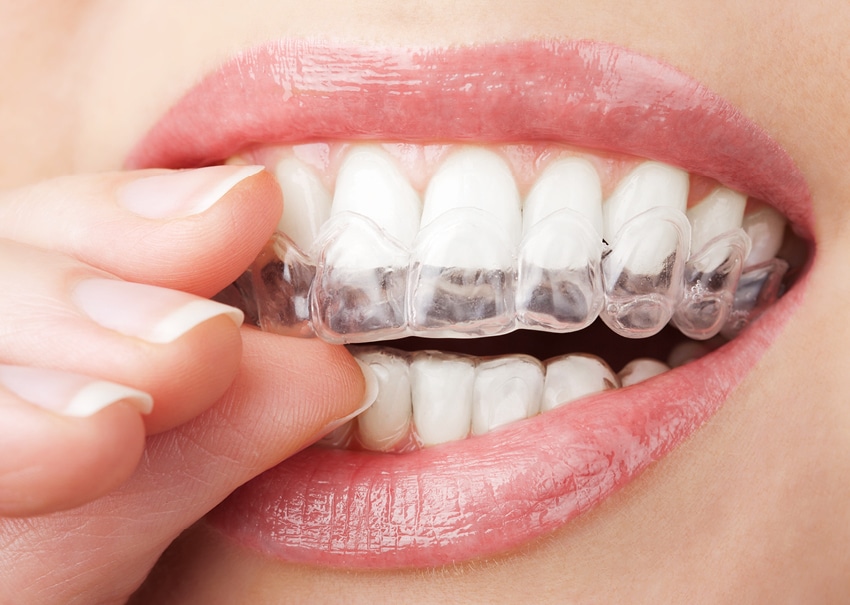 Customized teeth impression
Teeth whitening at the dental practice
In the past, this type of whitening was mainly carried out with higher concentrations of hydrogen peroxide. The teeth were whitened during one 1.5 hour-long session. Today, EU legislation only allows the use of lower concentrations of hydrogen peroxide (up to 6%), with better application and better result in whitening carried out at home.
It is a combination of the first two types. This type of whitening yields the best results, for example, it is used in the Pure Whitening system, which we also offer in our Smart Dental Clinic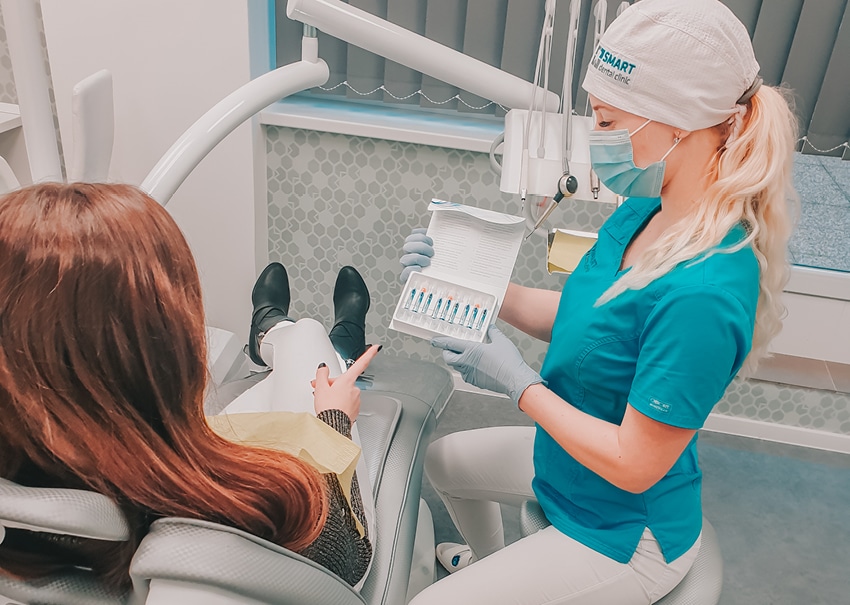 Teeth whitening at the dental practice
What happens when teeth are whitened?
Teeth whitening is an oxidative process in which a substance from a whitening gel penetrates the enamel and causes degradation of organic molecules responsible for discoloration to smaller molecules that appear to be lighter in color. Whitening with low concentrations of carbamide peroxide or hydrogen peroxide is safe, but of course, anything in excess can be damaging.
If the patient repeats the whitening, they risk the so-called saturation point. This is the moment when maximum whitening has been achieved and the whitening agent can already begin to affect other tooth structures. Therefore, whitening should always be carried out under expert supervision and the time period recommended for whitening should be observed.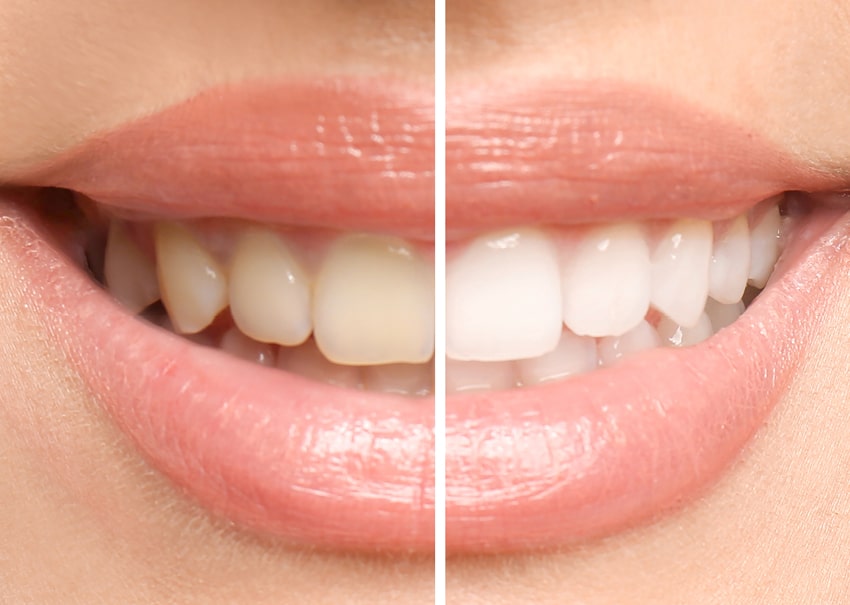 The teeth whitening offered at the Smart Dental Clinic
You have a choice of two types of whitening in our clinic. We offer either the combined Pure Whitening or the Opalescence home whitening
Home whitening: Opalescence
This is done entirely at home. The procedure is similar in that first the teeth impressions are made in our clinic, which serve our technician as a template for making the carriers. Opalescence gel carriers are worn for 14 days during the night or for 2 hours per day depending on the peroxide concentration.
The teeth may become temporarily tender during whitening due to glycerin, which may cause temporary dehydration of the teeth. If this problem occurs, it is recommended to use a paste to reduce the tenderness during whitening or to omit the night whitening.
During the whitening and for 7 days thereafter, it is advisable to follow a white diet, to exclude foods and drinks with a high content of coloring substances such as a coke, coffee, tea, red wine, beetroot, turmeric and other.
Like the Pure Whitening system, Opalescence whitening has its contraindications, which should be evaluated by your dentist or dental hygienist. These include, for example, inflammation of the gums, extensive fillings in the front teeth, active periodontitis and other.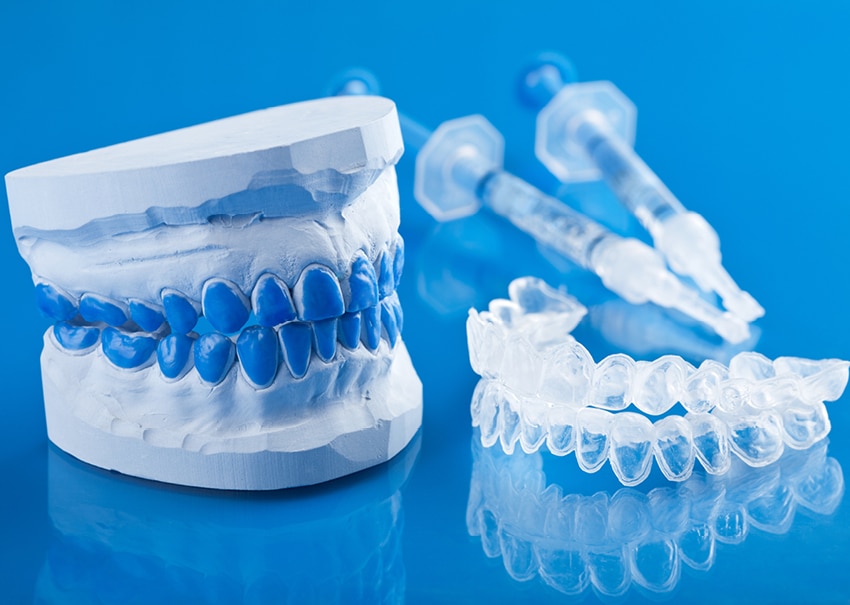 Home whitening: Opalescence
Combined whitening: Pure whitening
At our clinic, we use the Pure Whitening system, which is a combination of home and outpatient whitening. These days, Pure Whitening is one of the very gentle types of whitening that yields excellent and guaranteed results.
If the patient opts for this type of whitening, they first have a session with our dental hygienist to make impressions, which are then sent to the laboratory, where customized whitening carriers are produced. The patient then receives a special activated gel along with the carriers, which is applied to the carriers and then onto the teeth for 14 nights. This gel is kept at a low temperature during production and transport, which makes it the only one on the market as effective as on the day on which it was produced. Thanks to this, these systems also manage to whiten teeth that could not be whitened using other techniques. 14 days of home whitening is followed by the outpatient whitening, which is an important step in producing a long-lasting result.
Pure Whitening gels use the lowest concentrations of peroxide on the market and comply with the EU legislation. Some patients may experience increased tooth sensitivity during whitening with other brands. The Pure Whitening system reduces this sensitivity to a minimum by not containing stabilizers, preservatives, glycerol or other substances that could increase this tenderness.
Unlike in most other whitening programs, it is not necessary to follow a white diet while on Pure Whitening, i.e. , to avoid coffee, tea and other pigmented drinks and meals.
Of course, teeth whitening is not meant for everyone. It is not recommended for pregnant and lactating women, and also not suitable for people with poor hygiene and inflammation of the gums. Furthermore, it is not recommended for people with a large number of dental fillings in the front teeth, as this could result in color differences.
DID THE ARTICLE RESONATE WITH YOU?
BOOK YOUR TEETH WHITENING WITH US TODAY!
Combined: Pure Whitening

380 €

Combined home and outpatient whitening of 14 days;

Customized impressions by the laboratory technician;

Outpatient whitening at the end guarantees a long-lasting effect

Home whitening: Opalescence

250 €

Only at home whitening of 14 days;

Customized impressions by the laboratory technician;