What are dental implants?
Dental implants are used as a proven method of replacing a tooth, which is often referred to casually as a "pin". The advantage of dental implants is the possibility of making solid dental replacements without the need to grind and numb the patient's teeth. The dental implant itself (representing a kind of artificial root) has a shape of a screw with an external and internal thread and is made of titanium and zirconium with a special surface finish.
We encourage you to watch a series of videos below that describe how to resolve individual cases:
Straumann® BLX: strong teeth on 4 implants within 48 hours
Within 48 hours after implantation, we will hand over a temporary (resin) bridge to you, which we will exchange in 3 months for an all-ceramic bridge fixed on 4 implants in the range of 10 to 12 teeth.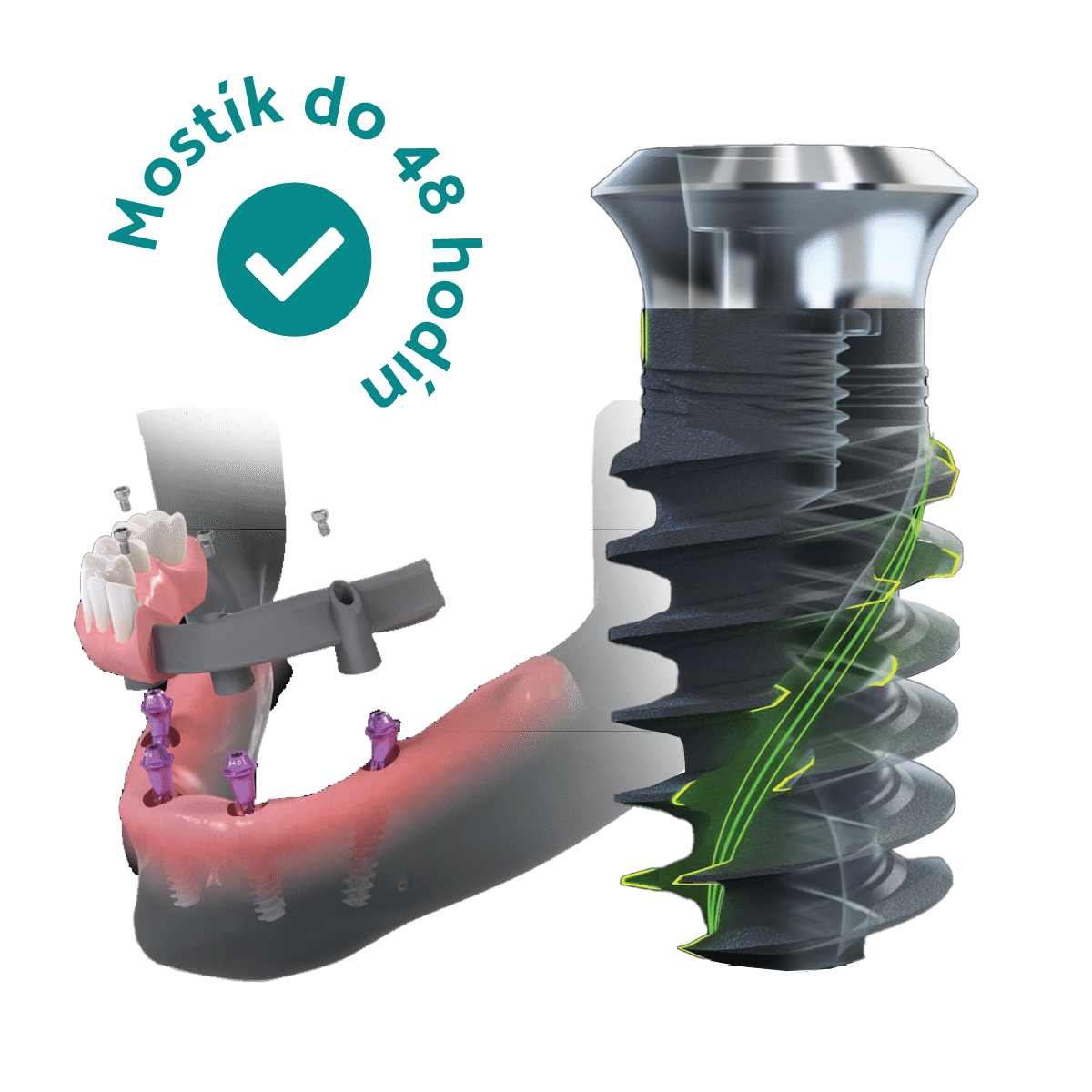 Why dental implants at Smart Dental Clinic?
The advantage of our workplaces in Poprad and Bratislava is that both brothers, Marián and Ján Tulenko, have been specializing in dental surgery and implantology for years. They perform more complex procedures – involving bone replenishment – jointly. That means two pairs of hands deal with and two pairs of eyes watch over you.
When planning the treatment, we use the latest 3D diagnostics. We can address the loss of a single tooth, multiple teeth or even complete loss of teeth. We are confident about our results; therefore, we provide a 5-year guarantee for dental implants as one of the few in Slovakia.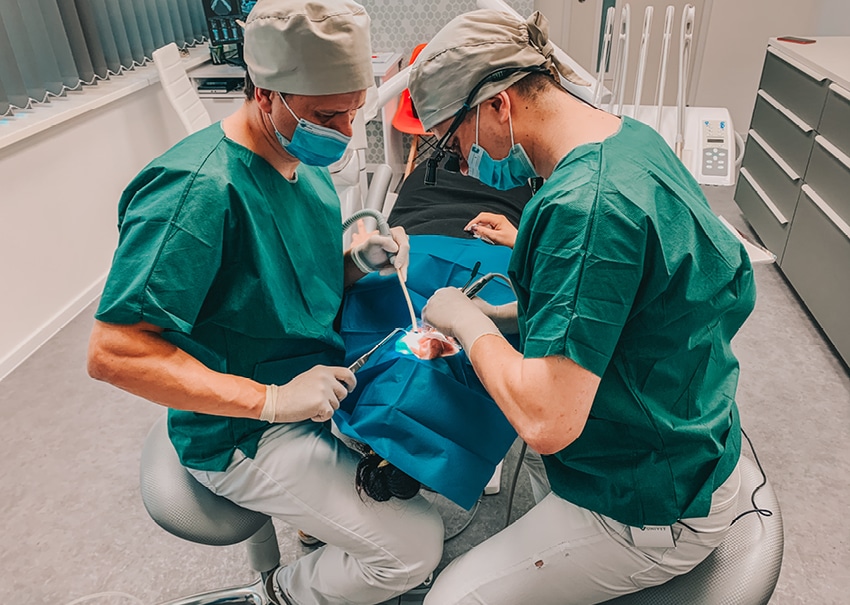 What are the best dental implants?
For maximum aesthetic and functional effect, we use top dental implants from the Swiss company Straumann. The quality of their products is based on decades of experience, continuous research and development, but mainly long-term clinical studies. The Neo Biotech Implantation System is a quality solution for those clients who are looking for a good value for money.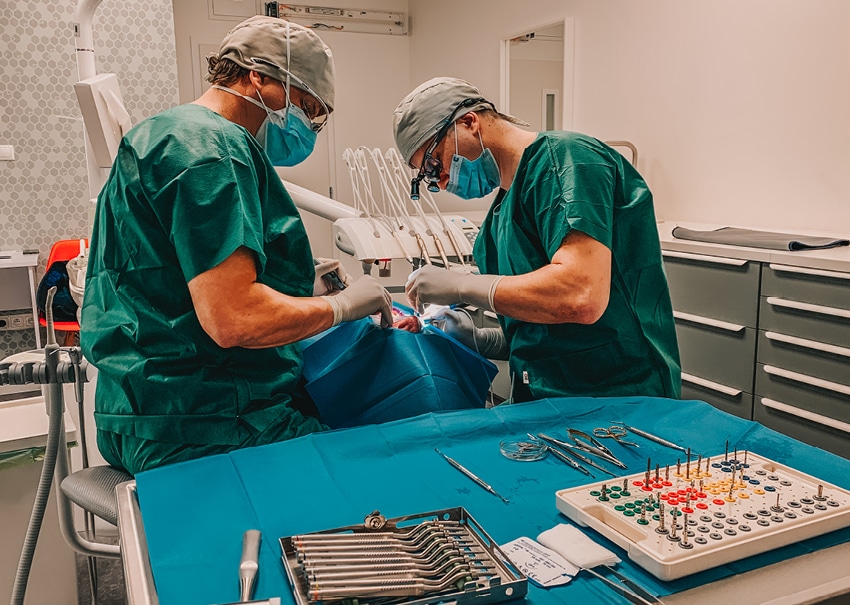 What is the procedure for making a crown carried by a dental implant?
The procedure is divided into four phases: consultation, implant insertion, healing and crown making.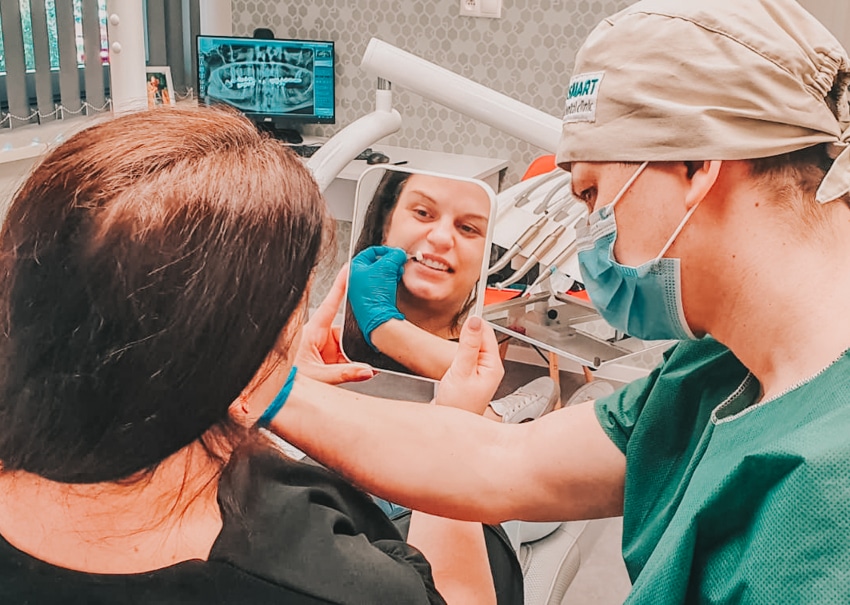 Dental implants and their price?
The price of inserting a dental implant depends on the individual patient, transparency is our first priority.
Diagnostics:

Non-binding consultation: free of charge
CT examination: between €25 and €100
Implant type (select one):

Straumann SLA Active: €820
Straumann SLA: €720
Neo Biotech: €550
Necessary aids:

Healing roller: €60
Crown manufacture:

All-ceramic crown on the implant: €580
Reviews from our patients
Dental implants at Smart Dental Clinic
TAKE ADVANTAGE OF A FREE NON-BINDING CONSULTATION WITH A SPECIALIST! FILL OUT THE FORM AND WE WILL GET IN TOUCH.