1. What are dental implants?
Zubné implantáty sa využívajú ako rokmi overený spôsob náhrady zuba, ktorý býva často laicky nazývaný ako "čap" alebo "nastreľovací zub". Výhodou zubných implantátov je možnosť zhotovenia pevných zubných náhrad bez nutnosti brúsenia a umŕtvovania vlastných zubov. Samotný zubný implantát (predstavujúci akýsi umelý koreň) má tvar skrutky s vonkajším a s vnútorným závitom a je zhotovený z titánu a zirkónia so špeciálnou povrchovou úpravou.
Dental implants function as a time-tested method of tooth replacement. The advantage of dental implants is the possibility of making solid dental prostheses without a need of grinding or removing one's own teeth. The dental implant itself (representing a kind of artificial root) has the shape of a screw with an external and internal thread and is made of titanium and zirconia with a special surface treatment.
We recommend you to watch the series of videos below, which describe variety of dental implant cases:
2. Why dental implants at Smart Dental Clinic?
The advantage of our workplaces in Poprad and Bratislava is that both brothers, Marián and Ján, have been specializing in dental surgery and implantology for years. They perform more complex bone supplementing procedures together. Therefore, there are two pairs of dexterous hands and eyes above you. We use state-of-the-art 3D diagnostics when planning treatment. We can solve the loss of one tooth, several teeth or even a complete loss of teeth. We believe in our work, thus as one of the few in Slovakia, we provide a 5-year warranty on dental implants.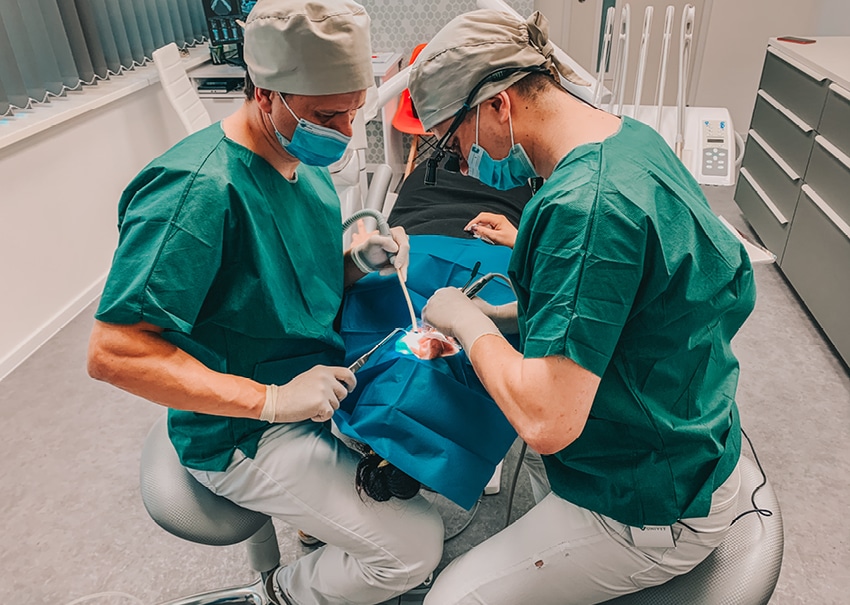 3. What type of dental implants are the best?
For maximum aesthetic and functional effect, we use top dental implants from the Swiss company Straumann. The quality of their products is based on decades of experience, constant research and development, but mainly long-term clinical studies. Neo Biotech is a quality solution for those clients who are looking for a favorable ratio between quality and price.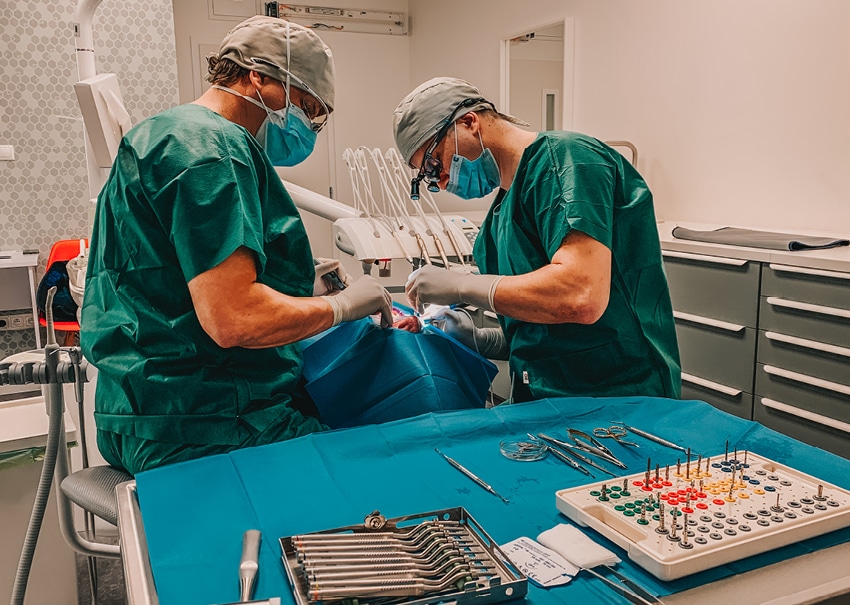 Subscribe to our newsletter
By sending the form, you agree with processing of your e-mail address for the purpose of sending commercial and non-commercial messages.
4. What is the procedure for making a crown carried by a dental implant?
The procedure is divided into four phases: consultation, implantation of a dental implant, healing and making a crown.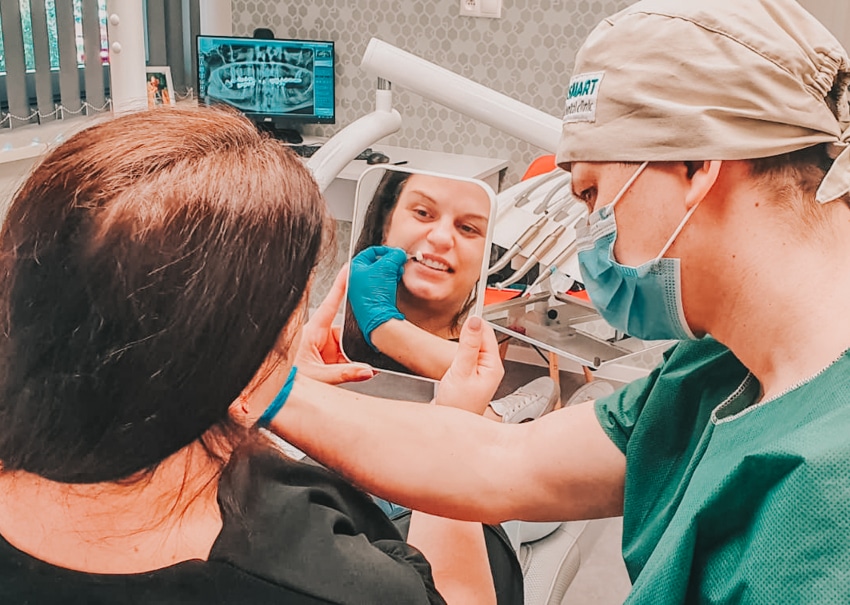 5. How much do dental implant cost?
The price of the implantation of a dental implant depends on the individual patient. Transparency is our number one priority.
Diagnostics:
Non-binding consultation: free
CT scan: from 25 to 100 € 
Type of implant (choose one):
Straumann SLA Active: 820 €
Straumann SLA: 720 €
Neo Biotech: 520 €
Required tools:
Healing roller: 50 €
Dental crown:
All-ceramic crown: 550 €
Free consultation with our specialist
Take advantage of the non-binding consultation with our specialist for free!
"My acquaintance recommended the Smart Dental Clinic to me. I have had dental problems for a long time and I could not enjoy the food properly. I opted for a solution with implants. And I did well. They implanted 6 implants and I was surprised that it was done in an hour. No pain during or after the procedure. Thank you and I'm already looking forward to new teeth! "
Miroslav
★★★★★
"I had an injury as a child and have had problems with my front tooth ever since. At the end they had to pull it out and I was left with a hole. Dr. Tulenko explained everything to me in detail before the procedure and inserted the implant in this place. It was quick and painless. Thank you very much!"
Michal
★★★★★
"I came to the Smart Dental Clinic with problematic bridges in the back. After the X-rays, the doctor decided that the teeth under the bridge were already in poor condition, so the bridges had to go down. The teeth were treated and then I decided that I no longer wanted bridges, but I would put implants in place of the missing teeth. I've been missing my teeth for a long time and I had few bones there. I was afraid, but I had everything explained in detail and the procedure was manageable. Thank you for the great approach! "
Michaela
★★★★★